Querétaro, Mexico, International capital of Salterio
|
A new project: A competition for new music for Salterio
By Angenila Camargo.
September 2012.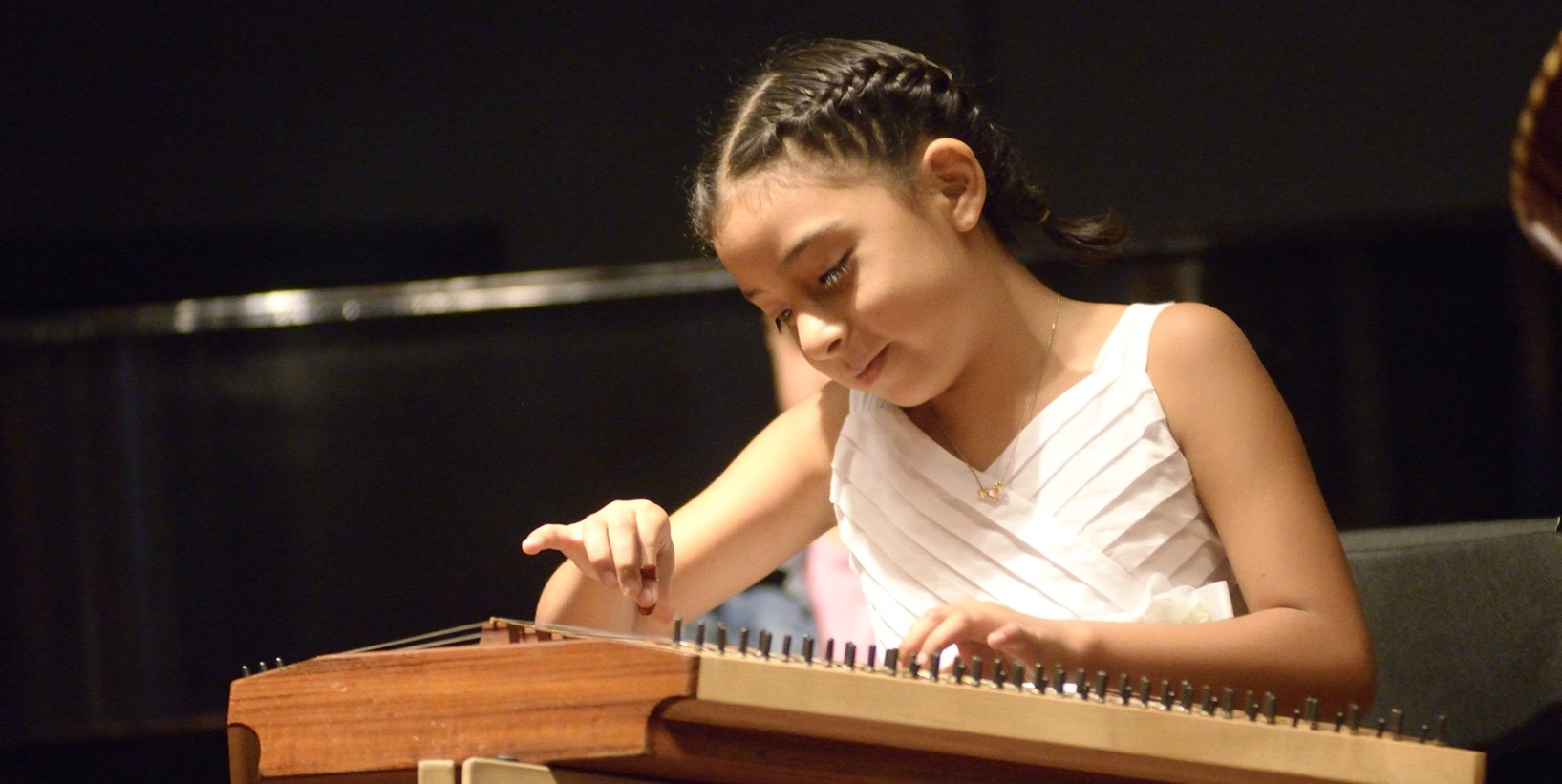 The 5th International Festival of Salterio Querétaro 2012 was held in our city  from September  23rd to 30th, sponsored by the minister of Culture and Art of Querétaro. joining in music all the public and participants of the festival.
The Duo Dulcemelos, music educators, who have organised the festival since 1998, invited musicians from Austria, Hong Kong, Japan and México to share their dedication, love and talent for this family of instruments by playing the hackbrett, yangqin, cimbalom and salterio. The sweet sound illustrated the language of music from early to modern times transmitting the human condition, making us feel strong and alive.
Plaza de Armas, The house for retired people ISSTE, Centro Cultural Dulcemelos, Museo de Arte, and Teatro de la República, Secondary school General #1, Casa del Faldon, Museo Regional, Escuela de Laudería, were the spaces where we appreciated the art of Junko Sakimura, a gracious and talented musician who represented Japan; Franziska Fleischanderl, a talented musician, and a great teacher, and wonderful human being with her students, Iris Forster and Catherina Durrchsmid, hackbrett players coming from Austria  and talented girls who came to share with Mexican students; Yanki ma Sze Yan and her student Kiki Yiu Siu Ki, who playied yangqin, and Phoebe Chang Wing Ki, Percussionist who came from Hong Kong, demonstrating talent, and a musical poem through their instruments.
From México, the participants were: "Trio Tradicion Mexicana", from Mexico city, Miguel Pacheco; Duo Dulcemeos, Salterio and Piano, (Alejandra Barrientos and Héctor Larios); The Salterio Orchestra "Makochi Dulcemelos"; the "Orquesta Típica Añoranzas", conducted by Jaime Hernández Lino; and the Philarmonic of Querétaro and their director José Guadalupe Flores; and the chamber music conducted by Alonso Hernández.
We enjoyed the salterio festival over seven days with twelve concerts, teaching, master classes, practices and rehearsals, with players from these different countries, and composers who dedicated to the festival, as Héctor Larios said "They are great creators, and who give us life through their music and give life to the instrument"
During those days we understood that Querétaro is a state which supports and demonstrate that tradition and co-operation, and development of the identity is working; with strength to see the renaissance of the salterio and the exploration of all the technical possibilities, helping Mexican composers to find an attractive interest in this instrument to create new music, for example, the "premiere" "El Breve momento de vida", for salterio, piano and orchestra, by Eduardo Soto Millán; "Retazos" for Salterio and Piano  and "Danza a la manera BartoK" for salterio and piano created for competition by Marta García Renart and "Resonancias" created by Francisco Núñez for salterio solo, which was part of the competition for children.
In Music Education The Salterio is a tool for teaching children; to develop motor skill, attention, memory, identit, and introduce to the children chamber, traditional and contemporary music and to work in a team.
Marta García Renart said: "This instrument is very good for little children and music education, because your little hands can play and find new sounds".
Looking to the future, the festival organized the 2nd national competiton of Salterio and we found children from 7 to 12 years old, and 13 to 17years old.  They demostrated what they can do and all the possibilities of the salterio, and feel the vibration of the emotions combine with the vibration of the instrument.
The sound is movement…
We had 13 children enter the competition, and the jury participated and helped to develop the level of the competition; Junko Sakimoro, from Japan, Franziska Fleischendarl from Austria and the composers Eduardo Soto Millán, Francisco Núñeas and the pianist Marta García Renart.
In the first Category the winners were: Ma. Eshter Flores Jiménez, as 1st place, Héctor Emanuel 2nd place, Carmen Cristina Vallejo, in  3rd place and in the 2nd Category we had Perla Guadalupe Vega Hernández in 1st place (16 years old), Javier Adalid Schmid in second place, and landy Hayde López Jiménez, in 3rd place.
In all the festival concerts we had had a total audience of approximately five thousand of people. Twenty six children came to the lessons, and the interpretation of music for salterio grew and we had more music, contemporary music, chamber music and traditional music.
In conclusion, we can say that Querétaro is now the international capital of Salterio, an instrument that is comes from ancient Babylon, and all around the world we can see the brothers of Salterio like the hackbrett, yangqin, santur, tsymbaly, cimbalom, and as we see the instrument today with thousands of years development in their strings, bridges and picks.
Announcing the Competition for 2014
We invite entrants to the international competition of children for salterio, hackbrett, santur, cimbalom, tsaltery, cimbaly, September 2014.
There are 4 categories:  contemporary, chamber, folk and a one piece free music for salterio, hackbrett, santur, cimbalom cimbaly, etc.
Levels:
7 to 12 years old
13 to 17 years old.
Dates: September 2014.
Soon we will let you know all the details.
Angelina Camargo (reporter).